The Daily Star's Sunday edition has had its front page released this evening and they are going with the story that Bayern Munich's Robert Lewandowski could earn £500,000 a week if he joins Manchester United.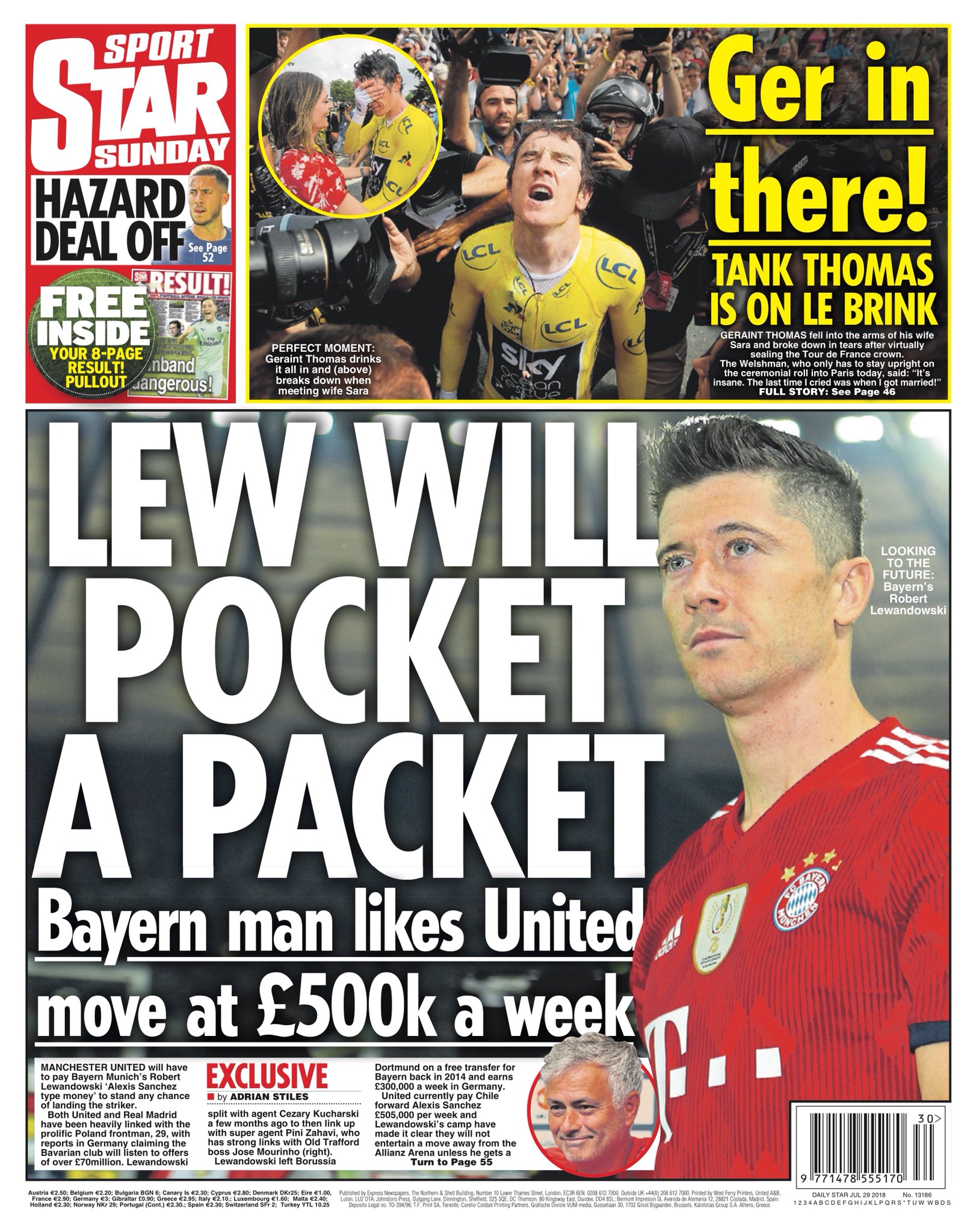 Prolific goalscorer
Lewandowski is a prolific, consistent, goalscorer. During his time at Dortmund, Lewandowski played 187 games for them. Racking up 103 goals and 43 assists in that time.
Then, when Lewandowski moved to his current club Bayern Munich he has, so far, played 195 competitive games for the German giants.
In which the Bayern forward has managed to score a very impressive 151 goals, as well as earning 35 assists.
As a result of Lewandowski proving season after season he is one of the best strikers in the world, many big European clubs have shown an interest in him this summer.
One of which is Premier League side Manchester United.
Inconsistent Lukaku
A large part of why United are seemingly looking for another striker this summer is due to the inconsistent displays of Romelu Lukaku.
Lukaku signed for Manchester United last summer from Everton for a fee in the region of £76 million.
Since arriving at Old Trafford Lukaku has been quite a controversial figure who has divided fans and pundits alike.
In his debut season for United Lukaku played 51 games in all competitions. In those 51 games, he scored 27 and assisted nine. Included in those goals was 16 Premier League goals in 34 appearances.
This is by no means a terrible record and a lot of strikers would be happy to have scored 27 goals in 51 games.
However, Lukaku's biggest problem/criticism is that he fails to score in the big games.
This is seemingly a fair criticism as last season only one of his 16 league goals came against a side in the top six, vs Chelsea in February when United won 2-1.
Having your main striker hardly turn up in big games isn't exactly ideal and it has now seemingly forced Mourinho to look elsewhere for a striker who will do it in the big games.
Related: Manchester United line up two alternative targets to Harry Maguire.
MEN: Manchester United inform Eric Bailly that he is not for sale.
Premier League betting tips
Click here for more Premier League betting tips
---
GO TO SOURCE
Josh Barker